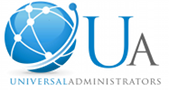 Mission Statement
The mission of Universal Administrators is to focus our energies on empowering high value business through the use of our third party administration talents relating to the extended warranty, service contract, risk / asset base management and insurance industry.
To be successful, our administration services must be designed and implemented to assure highly profitable programs for our clients and business partners.
We constantly strive for service levels that maintain outstanding satisfaction for all involved.
Company Overview
At Universal Administrators we bring businesses together to facilitate beneficial and profitable relationships. Our primary function is third party administration involving extended warranty, service contract, risk/asset base management and insurance programs. We integrate the necessary resources and administer the ongoing processes.
In business since 1986, Universal Administrators is nationally recognized as a leading innovator in the extended services industry. We set the standard for safe, efficient, high customer value and high profit programs.
As related to the extended service industry, Universal Administrators knows manufacturing, distribution, marketing and retail. We are experienced in HVAC, electronics, appliances, medical, industrial and office equipment as well as home, manufactured home and plant management. We understand all aspects of the insurance business, including actuarial, underwriting, claims processing and adjudication. The company is well equipped for repair, replacement, and condemnation. Our strength comes from possessing the administrative talents necessary to orchestrate the ongoing, successful operation of each facet of any given program.
The departmental services UA provides include marketing and account development, actuarial, risk assessment and insurance underwriting. The company provides call center management; customer service representatives (CSRs), a nationwide repair service network, dispatch, claims processing and problem resolution. Additionally UA provides account analysis, and claims auditing along with data processing, data entry, programming and training as appropriate.
Besides entrepreneurial imagination, the most important contribution we bring to our clients is the knowledge and contact base to connect the resources that enable a sound business venture.